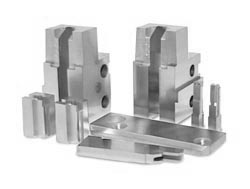 Flash Chrome
Our primary service of chrome plating is directed at the tool & die and mold making industry. We specialize in the flash chrome plating of core pins, cavity blocks, inserts, and laminates requiring specific deposits to maintain close tolerance stack-up dimensions. Ideal for wear surfaces such as interlocks, mold chases, moveable cores, and slides.
Properties:
Lubricity. Enhances mold release.
Uniform deposit thickness. Where necessary, conforming anodes are used to insure uniform deposit thickness. This can be achieved to a tolerance of two tenths (.0002) of an inch.
Hardness. 68-72 Rc. Ensures longer tool life.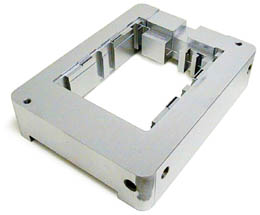 Protects repairs. When repairs are made with a softer material, such as weld or nickel, chrome offers protection against galling and premature wear.
Hydrogen Embrittlement Relief
Hydrogen embrittlement relief of heat treated tool steels is done as requested or when necessary. Baking of parts will remove the hydrogen before it has a chance to become ingrained and be susceptible to fracture by embrittlement.